 
HSB 9000
Behind its compact dimensions, our "semi-automatic" model conceals a wide variety of functions and outstanding applied expertise. For example, format settings are adjusted without tools which mean efficient and user-friendly work in the shortest possible time; with greatly reduced personnel input, this saddle stitcher can produce up to 9,000 products per hour to meet high quality standards and without any staple misplacement. In addition, the HSB 9.000 is the best in its class with a maximum format of 365 x 350 mm. Loop stitching, as an option, is also no problem for it.
Standard format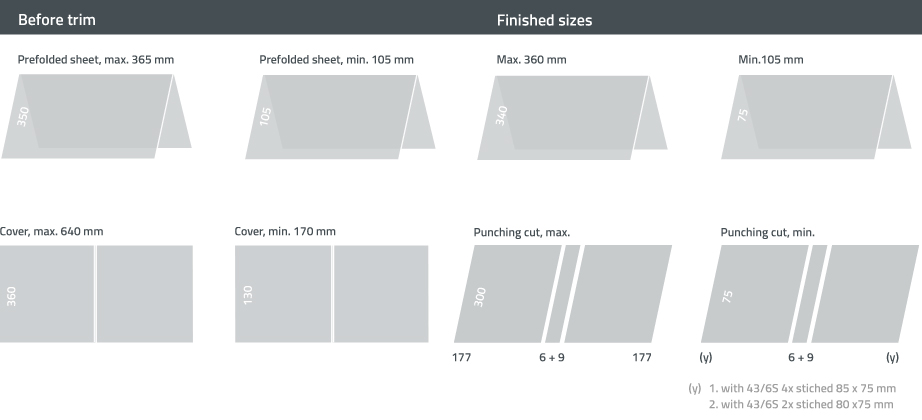 Small format (optional)
Maximum Format:

365 x 340 mm, trimmed
365 x 350 mm, untrimmed

95(*80) x 60 mm; *untrimmed (Front trim only)

Minimum Format:

105 x 75 mm, trimmed
105 x 105 mm, untrimmed
95 x 60 mm, trimmed
75 x 60 mm, trimmed;
with punch cutting device;
70 x 60 mm, trimmed
punch cutting device 9mm

Maximum cutting thickness:

10 mm

10 mm

Maximum stitching thickness:

5 mm

 

Maximum distances in trimmer:

 

 

50 mm for front trim
each 50 mm for head and foot trim

Number of stitching heads:

up to 4 centrally adjustable HOHNER Narrow Stitching Heads UNIVERSAL 52/8S
Standard crown widths 14 mm,
(Optional widths: 8 mm, 16 mm)
(Optional loop inner diameter -ø: 6 mm, 7 mm, 8 mm)
(Optional with HOHNER Narrow Stitching Heads UNIVERSAL 43/6S)

Maximum stacking length of vertical feeder:

approx. 250 mm (depending on paper)

Signature opening:

by vacuum suction or for maximum 8 mm pre or 5 mm post creases also by grippers, maximum 20 mm pre and post creases.

Speed:

1.000 – 9.000 products per hour (infinitely variable) 

Supply voltage:

400 Volt, 3 phases, 50 Hz

to technical changes
No customer reviews for the moment.
97 other products in the same category: